Alpha Kappa Psi graduation cords represent the largest business professional fraternity, and also the oldest. Alpha Kappa Psi, sometimes written as "AKPsi," was founded in October of 1904 at NYU (New York University, New York City, New York) and has Royal Blue and Gold as their colors. Royal Blue and Gold can be incorporated into an honor cord in a number of ways. There is the Royal Blue with Gold Braided Graduation Cord, the Double Cord, and the Double-Braided Graduation Honor Cord. The first would be a single cord with the colors royal blue and gold intertwined together, two parts royal blue, and one part gold. The tassels at either end would be royal blue and gold. The second option is the double cord and it features a single royal blue honor cord tied to a gold cord. Option number three, the double-braided graduation cord has two of the earlier mentioned intertwined cords tied together.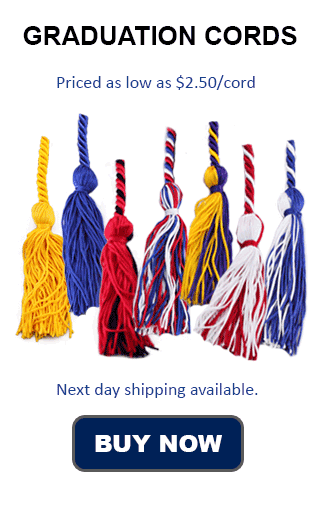 No matter which way you cut it we always offer great discounts for bulk orders, and our fast flat rate shipping at only $4. Flat rate shipping will get your order to you in at least 4-6 days no matter where in the US, and no matter the size of your order.
Alpha Kappa Psi has over 200 chapters that are active and 9 colonies. Their colonies currently are located at: the University of Idaho, University of Central Arkansas, University of Vermont, Dartmouth College, University of California Santa Cruz, MIT, Northwest Missouri State University, University of Chicago, and the University of North Florida. The College and University location of their 236 active chapters are just too many to list, suffice it to say that they are all around the country. Any of these chapters could look to use honor cords, specifically royal blue and gold honor cords to distinctly show their membership in Alpha Kappa Psi.
Many members of AKPsi have and do hold high political positions, and are leaders of industry in many fields. Some examples of this are: the late Benazir Bhutto, two time Prime Minister of Pakistan; Malcolm 'Steve' Forbes Jr., editor in Chief of Forbes Magazine; and J. Willard Marriott, founder of Marriott International.
Not what you're looking for? Check out our Complete List of Graduation Cord Colors.