Honors Graduation
Deluxe Honor Cords
Beta Gamma Sigma
Deluxe Honor Cords
Leading Competitor
Cord Style:
Double
Double
Double
Color:
Blue (Royal) & Gold
Blue & Gold
Blue & Gold
Unit Price:
$12
$14
$19.95
Bulk Pricing:
As low as $5
As low as $11
As low as $11.95
*Data taken from official Beta Gamma Sigma website on 3/11/2013.
---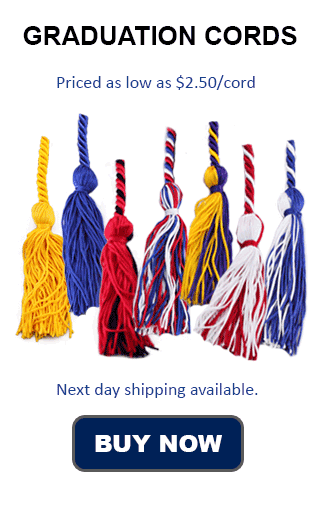 Compare our cords and pricing to Beta Gamma Sigma Graduation Cords, which are made up of a double cord where one cord is Gold with a Royal Blue tassel and gold string wrapped around the tassel. The other cord is Royal Blue with a Gold tassel and Royal Blue string wrapped around the tassel. Their cords also include a small golden charm. Conversely, cords from Honors Graduation have tassels that correspond in color to each cord, and do not include any metallic charms. Students or groups interested in purchasing our cords have a variety of options, including solid color cords and braided cords. royal blue and gold braided cord. The first one is one royal blue cord tied to one gold cord. The second option is where both colors are intertwined in the cord, and mixed into the tassel.
Recognise your students who are engaged actively in business honor societies. These societies help to foster and recognize scholastic excellence and personal achievement in business areas of practice and study. In order to be eligible for membership one must often be majoring in management or business at an accredited institution, and students must often be in the top 10 percent of undergraduates, or top 20 percent of graduate students.
Not what you're looking for? Check out our Complete List of Graduation Cord Colors.