One way to show membership in a fraternity is to wear an honor cord, or honor cords in the case that they are two colors tied together, on graduation day. This is easy to do with our multicolor braided cords, or by ordering a double cord and tying any of our vibrant colors together to get the combination you are looking for. Cords can even be triple tied with an overhand knot if you are looking for all three colors in one fantastic triple tied cord.
Fraternity Graduation Cords are only to be worn by students graduating from the fraternity that they are representing with the cord. Typically these colors would be the fraternity's colors. For example, Kappa Alpha, the first modern fraternity, could wear a red honor cord, because the color the fraternity is Scarlet.The following is a list of Fraternities for which we can provide Graduation Cords: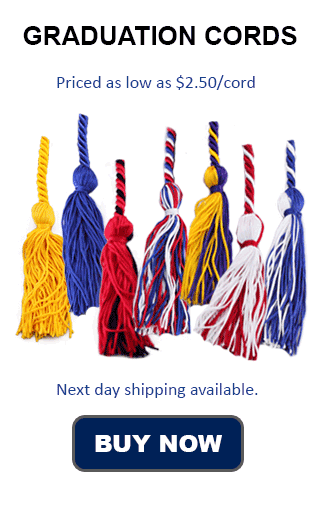 Whichever Fraternity you belong to Honors Graduation is your one-stop shop for Graduation Cord needs. We offer competitive pricing, discounts for bulk orders, and fast flat rate shipping. You can't go wrong with Honor Cords from Honors Graduation.
Not what you're looking for? Check out our Complete List of Graduation Cord Colors.