Kappa Sigma Graduation Cords are worn by members of the Kappa Sigma Fraternity at Graduation. They are double graduation cords of Red, White and Green braided cords. The official colors of Kappa Sigma are Scarlet, White and Emerald Green, which translate nicely into the honor cord colors of red, white and green.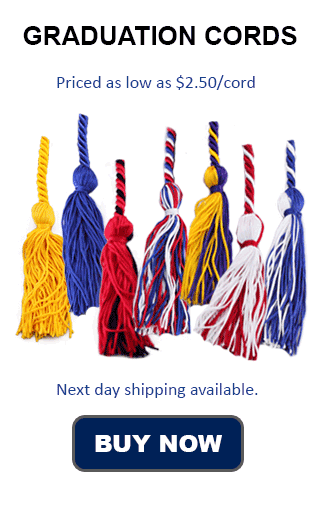 Other options to create a Kappa Sigma Graduation Honor Cord would be to either use a red, white, and green braided graduation cord from Honors Graduation, and have it made into a double cord with another of the same cord.
Kappa Sigma was founded in 1869 at the University of Virginia. There are now over 300 chapters in the U.S. and Canada, and 13,500 current active members. If you'll notice, the colors of Kappa Sigma, and those of Italy, are the same: Red White and Green (also the colors of the Kappa Sigma Graduation Cord). This is perhaps an allusion to the tradition in Kappa Sigma that the roots of the fraternity are in a group founded at the University of Bologna in 1400. The University of Bologna is one of the oldest Universities that is still functioning as one today.
When you order Kappa Kappa Psi Graduation Cords from Honors Graduation, you know that you are not only getting a quality honor cord, you will also get it on time. This is very important for time sensitive products like graduation cords, where they are needed for graduation ceremonies or award banquets. We offer a variety of shipping options, including overnight delivery and our flat rate shipping option that will get your order to you in 4-6 days, no matter what the size, for one low price.
Not what you're looking for? Check out our Complete List of Graduation Cord Colors.