Graduation provides the perfect opportunity for students to be recognized and praised for their academic and personal successes throughout their educational careers. For those students who are members of the Sigma Alpha Phi National Leadership and Honor Organization, many rewarding experiences throughout their college careers have helped shape them into the forward thinking, service minded people that they have become. At their commencement ceremony, they are most often recognized by the navy, black, and gold braided, double tied honor cord worn around their neck, symbolizing their great achievement.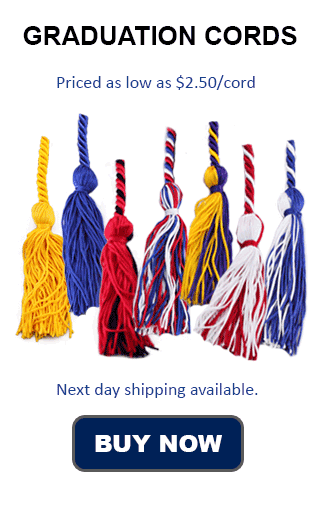 Sigma Alpha Lambda is a special honor society, focused on leadership, service, and academic excellence. Members of this organization must maintain a high grade point average, as well as be willing to meet various requirements for the local chapter of Sigma Alpha Lambda. Members and officers focus on working together to create learning opportunities for children in their communities, as well as provide services to deserving people and causes. Recognition for membership in Sigma Alpha Lambda will distinguish graduates as men and women of great character, with a willingness to serve and lead as well as constantly improve themselves. Navy, black, and gold honor cords are the perfect memento of your students' service to their school and their community. While we do not currently carry navy black and gold braided cords, we do carry each of those colors individually, and they could easily be tied into a triple cord for a unique commencement honor.
Our navy graduation ropes, black graduation ropes, and gold graduation ropes are made from all synthetic materials, and will last long after graduation, making sure that your graduates alway have a way to look back on their college experiences. Sigma Alpha Lambda does offer honor cords in their online store, but our cords are just a high in quality with a much smaller price tag! Plus, with the added bonus of a low flat shipping rate, you can count on getting your cords faster at the lowest possible price. Include our navy, black, and gold graduation cords at your commencement ceremony, and your students will certainly stand out for their success. Be sure to check with your school administration and your local Sigma Alpha Lambda chapter for more information on how the cord is to be worn during your graduation exercises. Show your respect for all your students' hard work, and honor them with a navy, black, and gold graduation cord. Careful not to confuse these cords with our black and gold Phi Eta Sigma cords, which are given to qualifying freshman.
Not what you're looking for? Check out our Complete List of Graduation Cord Colors.