Honors Graduation
Honor Cords
Sigma Theta Tau
Honor Cords
Leading Competitor
Cord Type:
Double
Double
Double
Colors:
Lavender & White
Orchid & White
Lavender & White
Price:
$12
$14
$19.95
Bulk Pricing:
$5.00/cord
$12/cord
$11.95/cord
*Data taken from official Sigma Theta Tau Honor Society website on 3/22/2013.
---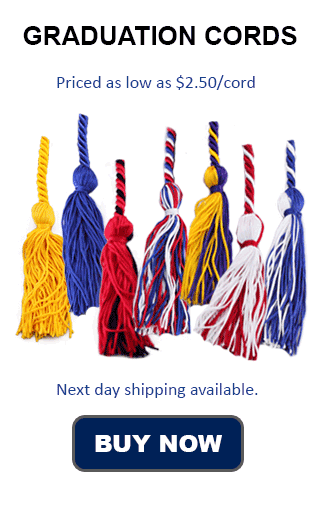 For any school graduation, nothing is more important than ensuring that your students feel the full weight of pride and honor for their academic successes. When graduates have shown particular excellence in nursing, they may be honored with graduation cords from one of the nursing honor organizations. Nursing honors graduation cords often appear in an orchid, or pale purple, and white braided cord. The cord may or may not be double tied, so check with your local honor organization chapter when deciding how best to wear your cords. We do not provide official honor cords for any major nursing honor society, but would be happy to help you or your students acquire appropriately colored cords for graduation. In contrast to official Sigma Theta Tau International Honor Cords, our double cords would not be braided, but rather include one cord of each color.
To qualify to be a member of a nursing honor society, and to wear their society's honor cord at commencement exercises, students must meet several difficult requirements, including maintaining a high grade point average, completing a specific number of credit hours in their school's nursing program, and upholding standards of academic integrity. By honoring them with a nursing honor society honor cord, you are recognizing your graduates' skill and academic success, and associating them with a tradition of honor and integrity for the rest of their careers.
Nursing honor society graduation cords are the perfect final detail for the customary commencement garb. If your student has shown notable success in the field of nursing, or you have graduates who are qualifying members of nursing honor societies, consider purchasing the appropriate graduation cords for your commencement ceremonies, and offering them the respect and pride that comes from donning an honor cord. Nursing honor society graduation ropes signify, not only the success of the graduates who wear them, but also their potential for the future as they take the next big step in their educational experiences.
Not what you're looking for? Check out our Complete List of Graduation Cord Colors.