Honors Graduation
Honor Cords
Theta Chi
Graduation Cords
Leading Competitor
Cord Type:
Double
Double
Double
Colors:
Red w/ White & Red w/ White
Red w/ White & Red w/ White
Red w/ White & Red w/ White
Price (25 cords):
$200
$262.50
$495.75
Bulk Pricing:
$5.00/cord
$10.50/cord
$11.95/cord
Graduation cords make great gifts for students who have gone the extra mile in their education. For those young men who have had the opportunity to become members of a fraternity, a bond has been created that will last a lifetime. Membes of college fraternities are generally focused on community, education, service, and friendship. When it comes time for members of a fraternity to graduate and move on, a memento like a graduation cord can be the perfect link back to good experiences and great friends. A red with white double cord can be especially appropriate for graduates who have participated in a fraternity.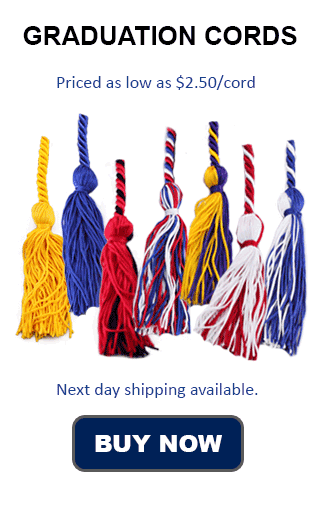 Theta Chi is a fraternity for college-age young men. Their colors are military red, and white, and when members are invited to wear a double honor cord made with two red with white braided cords when they graduate. Theta Chi offers cords through their own society store. However, though these cords are of similar quality to those from Honors Graduation, our cords come at a much unit price. Your young men deserve to be rewarded for their dedication to their school, their service in their community, and their loyalty to their friends. Here at Honors Graduation, we know how important it is that your graduate feel proud of their achievements, so provide only the very best cords, and for only the very best prices.
Fraternity brothers share a bond that can last forever. Help your graduate to reinforce that bond by giving him the opportunity to wear graduation cords in his fraternity colors on the day of commencement. The members of the fraternity will smile with pride as they pick their brothers out of the crowd, counting themselves among the lucky few who were able to experience the fun, friendship, and success of their society of brotherhood. Order your red and white honor cords from Honors Graduation now.
Not what you're looking for? Check out our Complete List of Graduation Cord Colors.