Honor cords represent an exciting time in the life of a high-school or college graduate, but we know that if you are a student, academic advisor, or school administrator, you have more important things to worry about come graduation time. Cords that arrive on time, without any surprises, and look even better than they do in the picture are really your primary concern.
Let us make your job easier. Whether you are a student who just needs one cord, or a university with an entire graduating class to worry about, we will make sure your honor cord isn't something to worry about.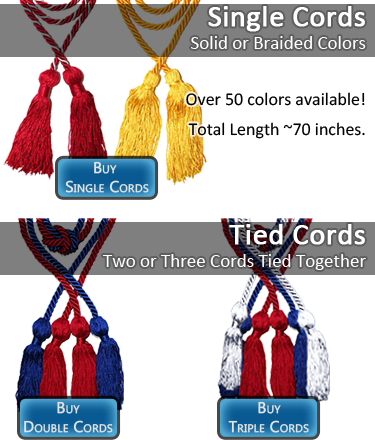 School Administrators and Special Considerations
Do your upcoming graduates need honor cords or graduation cords for their graduation ceremony?
If you work with an educational institution, you will need to be purchasing a large quantity of cords, or have special purchasing restrictions, don't worry, we've got you covered!
We accept

purchase orders

and all major credit cards. Additional PO instructions can be found during the order process.
International shipping is available for an additional fee.
Call us to find out more about bulk discounts and volume pricing.
Additional cord colors (other than what is listed on our website) can be arranged for bulk or recurring orders or for extended purchase contracts in cases where enough advance notice is provided.
An honor cord is symbolic of a student's achievements throughout their academic career, either through accomplishing a certain grade point average (honor cords are often given to university undergraduates who obtained a minimum cumulative GPA in their undergraduate studies), being a member of a particular honor society or club, or graduating from a particular school or department within the institution.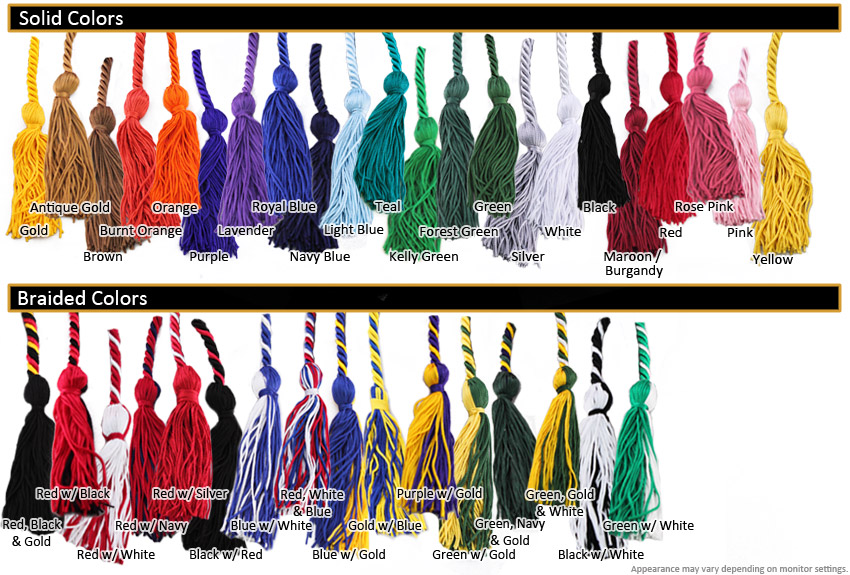 Cords are available in three styles, including 55 colors or color combinations. All cords are approximately 70 inches long with a 1/4 inch diameter. Tassels are each approximately 4" in length, making up a total of 8" of the 70" cord length.
Single cord (1 color 1 cord):

as highlighted in the image above, we offer a variety of honor cord colors including gold, antique gold, yellow, orange, burnt orange, purple, royal blue, navy blue, light blue, green, dark green (or forest green), bright green (also 'kelly green'), silver, white, black, pink, rose pink, red, and maroon. Some honors societies may have specific honor society cord colors that they use.

Braided cords (2 colors 1 cord): are single cords with multiple colors twisted or braided together. The most popular color options for a braided grad cord are royal blue with white; royal blue with gold; red, white & blue; red with silver, red with black; black with red; gold with green; bright green with white; and black, red & gold. See our example of cord color combinations, below.

Pricing for braided cords and single color cords is identical.

Double-tied cords (2 cords, can be single, braided, or both):

any graduation cord can be combined with any other as a double-tied cord. Double-tied cords cost twice as much as single or braided cords.
Highest-quality honor cord,

money-back guarantee

. If you are not satisfied with your purchase for any reason you can cancel your order and return the cords to us for your money back. If the return was for a reason other than a mistake on the part of Honors Graduation or a faulty or defective product, the cost of shipping both ways will be handled by the purchaser. All cords, defective or otherwise, must be returned within 7 days to qualify for our money-back guarantee.
Cord colors shown above are intended as a guide but may display differently depending on your monitor, web browser, or system settings.
There are two main distinctions between cords; single color or twisted (2 or more colors), and double or single tied. Although there are no formal distinctions or traditions associated with a particular style over another, each school may choose to have graduates use double-tied cords over single-tied. While there is no distinction in price between colors or twisted/braided cords, double-tied cords are generally a more expensive option. Honor cords are usually used during graduations by members of an honors society, fraternity or sorority, or department/school. Most graduation ceremonies will distinguish their summa cum laude, magna cum laude, and cum laude awards with special honor cords worn around the neck at graduation.
If you think you can beat a rate you found on our website, call us, we'd love to talk to you!
Graduation ropes or honor cords for honor societies & graduates.