Black and Red Tassels are an excellent choice. Graduation tassels are an essential part of any graduation ceremony. The black and red graduation tassel represents both the focus and the passion that are necessary for an education. Whether it is reserved for students who have exemplified these qualities, used to designate students of a specific field of study, or worn by all graduates as a sign of school spirit because it is in the school colors, the black and red graduation tassel is sure to bring a heightened feeling of inspiration to your commencement exercises.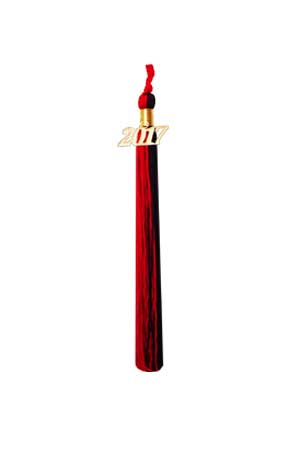 To wear the black and red graduation tassel, simply place the black loop at the top of the tassel around the button on the top of your graduation cap, and allow the tassel to dangle over the front left side. When instructed to do so, students will turn the tassel from the left side to the right, indicating that they have officially made the step from student to graduate. Some schools may choose to have the tassel begin on the right side and turn to the left, so be sure to see a school official for specific instructions on how your commencement ceremony will go.
Here at Honors Graduation, we want to give you the very best black and red graduation tassels available, but without breaking the bank! We offer amazingly low prices on high quality products, so you know you'll be getting what you need for the price you want. Plus, with our flat rate shipping and bulk order discounts, you can save even more by ordering for your entire graduating class! Our black and red graduation tassels will stand out at your commencement exercises, and be a lasting memento for your graduates in the years to come. Give your students the encouragement and inspiration they deserve, and offer them black and red graduation tassels from Honors Graduation today!
Not what you're looking for? Check out our Complete List of Graduation Tassel Colors.