Graduation is a busy enough time for students, parents, faculty, and school administration without adding worries over whether your students are going to look great at the commencement ceremony. We offer graduation stoles for every kind of general student council, academic organization, honor society, fraternity, or sorority. We also offer customized graduation stoles with same week turnaround.
Graduation stoles are on the top of our minds, so you can worry about all of the things that are most important for you on your big day.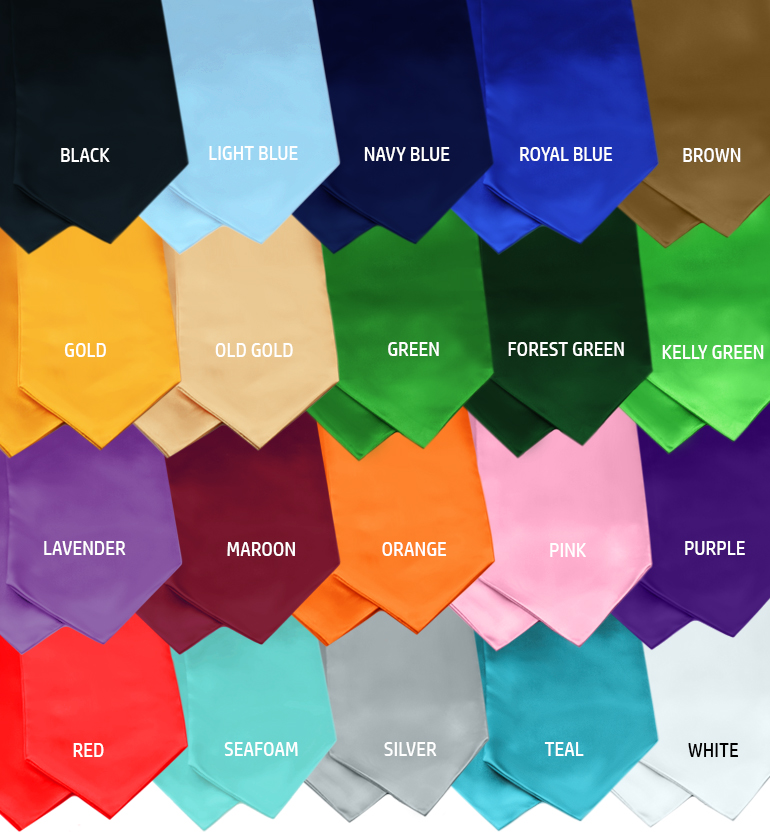 School Administrators and Special Considerations
Do your upcoming graduates need graduation stoles for an upcoming graduation ceremony at your school?
If you work with an educational institution, need to obtain a large quantity of stoles, or have special purchasing restrictions, don't worry, we've got you covered!
We accept

purchase orders

and all major credit cards. Additional PO instructions can be found during the order process.
International shipping is available for an additional fee.
Call us to find out more about bulk discounts and volume pricing.
Additional stole colors (other than those listed on our website) can be arranged for bulk or recurring orders or for extended purchase contracts in cases where enough advance notice is provided.
We offer standard length graduation stoles designed both to be worn with a traditional graduation gown. All of our graduation supplies, including stoles and sashes are available in bulk or as single purchases by individual students.

If your upcoming graduates need graduation stoles or graduation sashes for this year's commencement festivities, see what Honors Graduation has to offer you!
Classic Stoles available in the following solid colors:
Classic Stoles with Trim available in the following color combinations:
Highest-quality, money-back guarantee on all stole products.
You can know that you are getting the very best when you or your students purchase their commencement stoles from Honors Graduation!
If you think you can beat a rate you found on our website, call us, we'd love to talk to you!
Get a graduation stole with your high-school, college, or university graduate in mind!