Black and silver graduation tassels are ideal for any commencement ceremony. They inspire a level of professionalism, a feeling of pride in your students, that will remain with them as they continue forward in their education, or in their future employment, and look back on their experiences at your institution. The black and silver graduation tassel can stand as a lasting memento of pride, success, and hope for the future. What could be better than offering your graduates this final bit of inspiration for the next phase of their lives?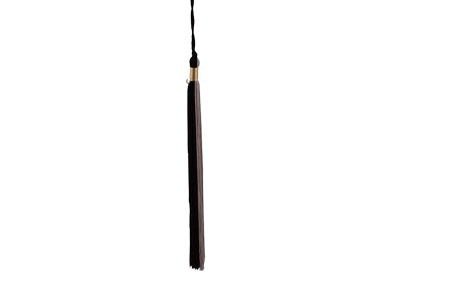 A silver and black tassel is worn by placing the tassel loop around the button on the top of a graduation cap, or mortarboard, and letting the tassel drape over the front left side. When instructed, students will turn the tassel to the right, indicating that they have been recognized for their achievements and are officially graduates. Some schools reverse the direction of the tassel turn, beginning on the right and turning to the left, so be sure to see your school administration for more detailed instruction.
When it comes to planning a graduation, your top priorities are probably for the ceremony to run smoothly and for your graduates to feel amazing about all that they have been able to accomplish. Here at Honors Graduation, we keep those same goals in mind. You do not need to worry about whether your black and silver tassels will arrive on schedule, or if they will be quality products. You do not need the stress of a confusing checkout process, or unreasonably high prices. Our graduation tassels are made from the very highest quality all synthetic materials, so they are not only beautiful and affordable, but also durable. Our streamlined checkout process helps you get your order in fast, and we offer a flat rate shipping that will knock your socks off. Order your black and silver graduation tassels from Honors Graduation today!
Not what you're looking for? Check out our Complete List of Graduation Tassel Colors.