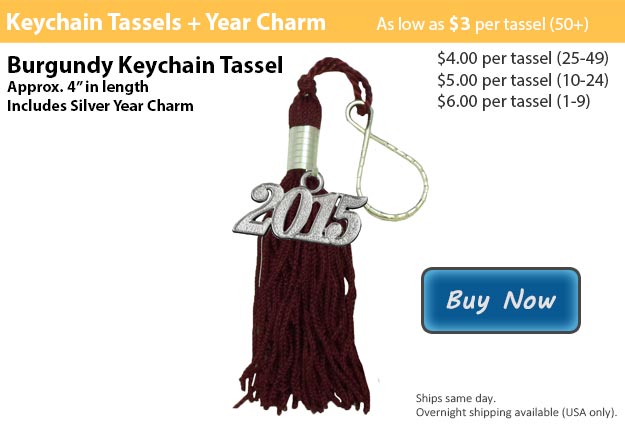 Honors Graduation is here to help you look fantastic for your graduation day. We have everything to get you ready for this monumental day. Graduation is more than just a ceremony, it's a time where your friends and loved ones all come together to celebrate your success. Whether you are preparing to head off to college or you are finally getting that degree, graduation marks the completion of this portion of your life, meaning your next adventure is just beginning. The majority of students who are graduating dress in a cap and gown at the time of their graduation ceremony. Here at Honors Graduation our inventory of graduation attire doesn't end with the basics, we carry special items from your graduation cords matching your school colors to tassels and year charms. Our keychain tassels in burgundy would be an excellent keepsake to remind yourself that hard work can pays off. It is not uncommon for graduates to hang on to something such as their tassels or a tassel keychain as a symbol of all their overcome trials and challenges that they have tackled over the years.
Students wear tassels on their graduation caps during their ceremony because of the turning of the tassel tradition, where upon receiving your diploma, you move your tassels from the left to the right side of your cap. Our keychain tassels are a convenient momento thanks to their smaller size and because they hook right to your keys, bringing inspiration everywhere you go. You can even add our year charms to your keychain tassels to make it that much more meaningful. We use only the best materials when it comes to our graduation attire, so you can be certain everything will be to your satisfaction or you can return them and get your money back.
Not what you're looking for? Check out our Complete List of Keychain Tassel Colors.