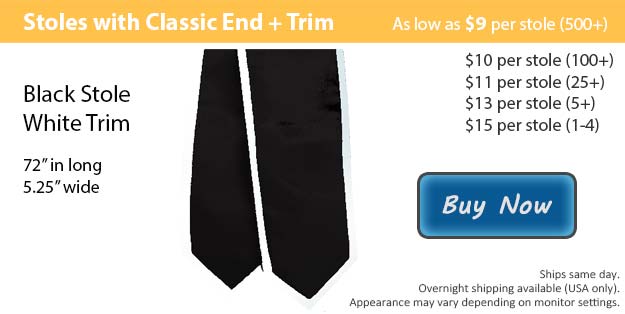 Our black graduation stole with white trim an elegant way to compliment the rest of your graduation attire.
As the year comes to an end and you begin preparing for your graduation, be sure to get everything that you need in order to be ready on time for your big day. Here at Honors Graduation we have all of the accessories that you might be looking for as well as all of the essentials you need to walk during your ceremony. It is important for you to look the best that you can at the time of your ceremony, your graduation day is one you will not be forgetting about any time soon. Your family and friends will come together from all around to join you as you celebrate your success. We know how hard you had to work and the amount of sacrifice that you made to reach this point. That is why we make it our goal to help graduating students get ready with ease. We can even customize items for you to help you achieve the exact look you are going for.
At Honors graduation we have plenty of different colors to choose from for your graduation stole, this lets you pick the color you need with the best trim to go with it. If you do not wish to have a contrasting trim color, our stoles are also available as just a solid color as well. We have two different graduation stole styles to choose from, there is the classic option or we have an angled finish if you prefer. To create custom stoles, our customization team uses embroidery to add the image or wording of your choice to your graduation stole. Our custom stoles also make for an excellent keepsake to hang on display once your ceremony is over.
Not what you're looking for? Check out our Complete List of Graduation Stole Colors.