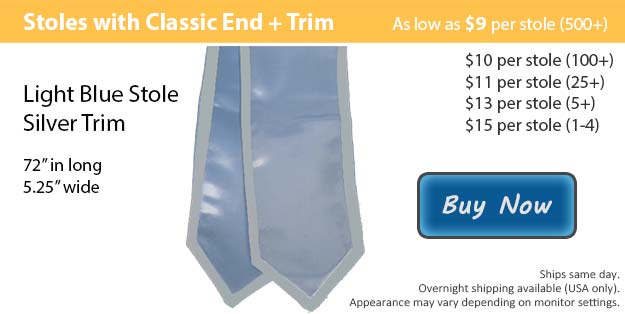 A light blue stole with silver trim is a fantastic look, the silver is a brilliant contrast with the light blue and goes well with any of our graduation robes.
It is almost time for your graduation, after enduring years of difficult trials it is finally here. At Honors Graduation we know just how challenging it can be to stay focused and reach your goals of graduation. It is something that doesn't come easy and your success will not go unnoticed. Graduation is a time when your family and your closest friends each come together in order to show their support and help you celebrate your tremendous accomplishment. Honors Graduation is here to help you to be completely prepared for this monumental day in your life. We have everything that you might want or need to look amazing for your graduation ceremony. Graduating students are typically required to wear a graduation cap and gown at the time of their ceremony. They usually add some accessories to signify a group that they are apart of or show their school spirit. We have everything from bundle deals including the basics all the way to customized accessories. Our graduation stoles can be a great way to bring your whole graduation outfit together.
Here at Honors Graduation, each of our graduation stoles are available to be customized. Our customization team uses embroidery to add the wording or an image of your choice to your stole, creating a final product that you will treasure for years to come. We have two finishes for our graduation stoles, we have the angled cut and the classic option. Our stoles come with or without trim letting you choose just one color if you prefer. We have over 15 different colors to select from, allowing you to mix and match to produce the exact graduation stole you have in mind.
Not what you're looking for? Check out our Complete List of Graduation Stole Colors.