Gold and black tassels for graduation. Graduating, whether it be from high school, college, a vocational school, or a doctoral program, is such an exciting time in the life of a student. Reminiscing about the good times spent and the challenges faced, wishing colleagues and friends good luck as they go on their way, and basking in the overwhelming sense of pride and accomplishment are the moments your graduates will remember. And nothing could serve as a finer memento than the black and gold graduation tassel your students wore as they received their diplomas.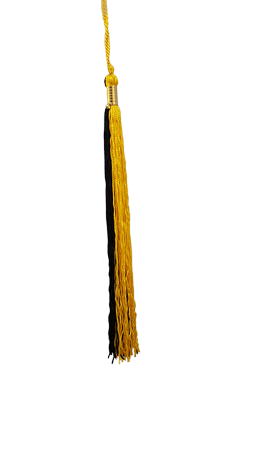 Gold and black graduation tassels are perfect for almost any graduation ceremony. Whether you choose to use the black and gold tassel to single out students who have majored in business, or earned a degree with honors, or to give the black and gold tassel to all graduates as a symbol of their school spirit, your commencement exercises will feel more complete with our tassels as the finishing touch. The black and gold graduation tassel stands for the hard work that must be put into any education, as well as the lasting reward of lifelong learning. By offering your students a chance to don a black and gold tassel, you are letting them know that you have confidence in their abilities, and you will instill that confidence in them for their future endeavors.
Our black and gold graduation tassels are made from all synthetic rayon, so you can count on them to be both beautiful and durable. Plus, with prices like these, you can rest assured that you are getting the most bang for your buck. Our black and gold graduation tassels are sure to dazzle at your graduation ceremony, so give your students the special commencement they deserve and order you tassels now! Make sure you ask about our flat rate shipping and our bulk order discounts!
Not what you're looking for? Check out our Complete List of Graduation Tassel Colors.