Graduation is a time of celebration, when students can take pride in their accomplishments, and enjoy all the pomp and circumstance that come with a graduation ceremony. Whether your student is graduation in law, literature, or business, a purple and gold graduation tassel is sure to be the perfect finishing touch on the graduation day garb, and will remind your graduates that this is their special day to be recognized for all their amazing achievements. Gold and purple graduation tassels can be used to signify specific majors, students who graduated with honors, or be worn by the entire graduating class as a small token in the school colors.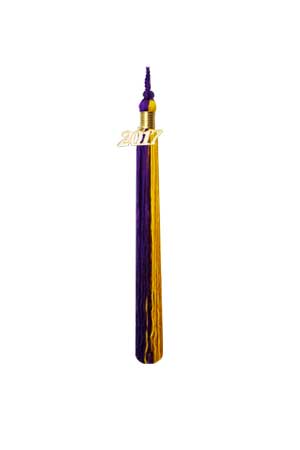 A gold and purple graduation tassel is worn by placing the tassel loop around the center button on a traditional graduation cap, then allowing the tassel to drape over the front left side of the cap. When instructed, students will turn the tassel from the left side to the right, signifying their transformation from student to graduate. Some schools choose to begin with the tassel on the right side and turn it to the left, so be sure to ask your school officials to find out their preferred way to wear the tassel.
Wearing a gold and purple graduation tassel can help your students feel confident as they move on to the next phase of their lives. The tassel represents their success up to this point, and can help encourage your new graduates to continue in that success. Make sure your graduates know just how proud you are of their accomplishments, and give them the opportunity to wear a special gold and purple graduation tassel at their graduation ceremony. With our high quality tassels and amazing low prices, you will be happy in the knowledge that you gave your students an extra special commencement ceremony at such a low cost! Don't forget to ask about our bulk order discounts and our flat rate shipping!
Not what you're looking for? Check out our Complete List of Graduation Tassel Colors.