Gold graduation tassels are a perfect component for any student commencement exercises. The tassel is worn by wrapping the upper loop around the button on a traditional graduation cap, and allowing the tassel to hang over the front left side of the cap. When instructed to do so, students will turn the tassel so that it hangs on the front right side, signifying their completion of this portion of their education.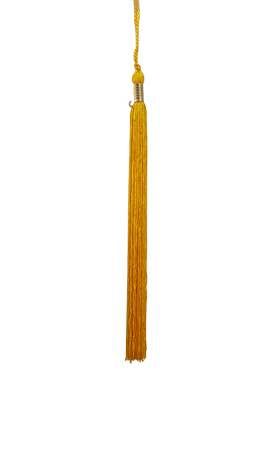 Many schools require students to wear a graduation tassel in a specific color. For example, most colleges will require a different color for each major, so the tassel corresponds with a student's chosen field of study. For high school commencement ceremonies, it is more common to use one school color for all graduating students' tassels, perhaps with the exception of honor students, who may wear a contrasting color. A gold graduation tassel is one of the most popular options for high schools, or for students who are graduating with special honors. Gold tassels may be reserved for those who are on the Dean's list, or for those students who are being recognized for special services to the school. On a high school level, gold is one of the most commonly used school colors, and would therefore be very appropriate as a graduation tassel color for most ceremonies.
At Honors Graduation, we want to provide the best available graduation products at the best possible price. We know that planning a graduation ceremony can be stressful, so we make sure our products are top of the line before we ship them out to you, and we offer amazing deals on bulk orders and flat rate shipping! Your students will love our gold graduation tassels, and you'll love our easy checkout and speedy delivery! Order your gold honor tassels from Honors Graduation now.
Not what you're looking for? Check out our Complete List of Graduation Tassel Colors.