When you are getting ready for your graduation I am sure that you would like to look your absolute best on this truly memorable day. Our tassels in gold and silver for graduation might be just the finishing touch that you need to bring your graduation outfit together. A cap and gown are worn by students who are graduating, a tassel is a small accessory that is also typically worn during graduation. When you order from us here at Honors Graduation we are positive that you will look your best on your big day. Made for either your cap or your gown, the combination of the gold and silver looks like pure victory. This tassel would be a unique way to show any special achievements for any honor students out there as well as show your school spirit if your school colors are gold and silver. Graduation is a time to praise those who have dedicated so much of their time and have finally reached their goal. As you move on to the next portion of your life with this graduation be sure to reflect on all the positive memories as well as the lessons that you have learned.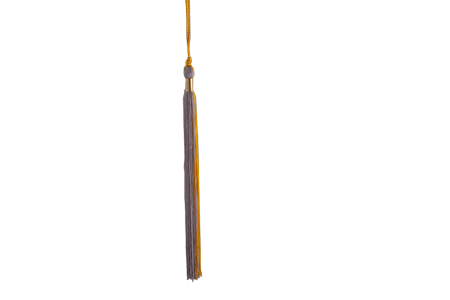 Here at Honors Graduation we bring you the best options for your graduation wardrobe with great pricing, we even have an excellent customer service team that is more than happy to help. Our gold & silver tassel is two tones, split right down the middle but creating one individual tassel. Often times when students receive their diploma, they then move their tassels from one side of their cap to the other, generally done left to right. Many graduates hang onto their graduation tassels as a reminder to never give up, they are perfect for putting in your rearview mirror or hang on display at home.
Not what you're looking for? Check out our Complete List of Graduation Tassel Colors.