Graduation tassels are an integral part of any commencement ceremony, especially as they are usually given to graduating students to keep as souvenirs. Green and white tassels are an excellent choice because, while they are two of the most popular school colors, the combination itself is seldom used. The green and white graduation tassel represents both the growth and the focus involved with getting an education. It is a symbol of academic dedication and prowess, and will be the perfect memento for your graduates to cherish in future years.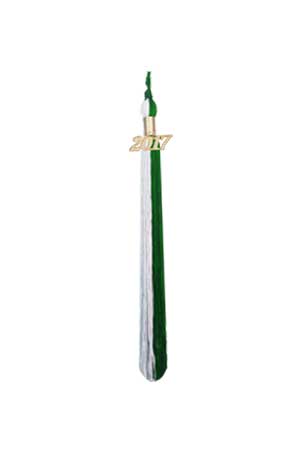 Green and white graduation tassels can be used for any number of reasons at a graduation ceremony. If your school colors are green and white, these tassels are an obvious choice, whether it be for the entire graduating class, or just for those students who have achieved high honors, or who have given exceptional service to the school. A green and white graduation tassel may also be used to designate success in a specific field, such as engineering, or biology. Most schools have a preferred color for their graduates, so be sure to find out what your administrators expect.
During the graduation ceremony, the tassel is worn by attaching the loop around the button on the top of a traditional cap, and then allowing the tassel the dangle over the front left side. When instructed, students will turn the tassel from the right to the left, signifying their step from student to graduate. Some schools invite students to turn the tassel immediately after receiving their diploma, while others wait until all the students have finished marching through the line, and then instruct all the students to turn the tassel at the same time. Remember, while left to right is the traditional turn, there are a few schools who prefer to turn the tassel from right to left, so speak to your advisors for details about the turning of the tassel.
Our green and white graduation tassels are sure to be the perfect finishing touch on your commencement ceremony, so call us now and order yours today!
Not what you're looking for? Check out our Complete List of Graduation Tassel Colors.