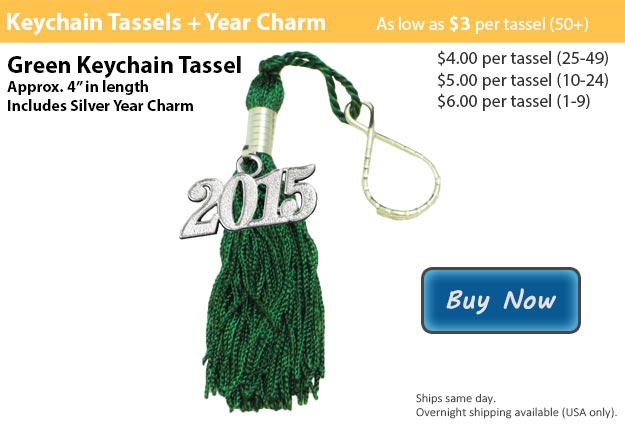 At Honors Graduation we are here to help you get ready for your special day. We know how important your graduation is, that is why it is our goal to have you looking spectacular so everything goes perfectly. We have everything you need to look sharp during your ceremony and so much more. Graduation is a time where your family and friends all join to honor you for all of your hard work and sacrifice. Whether you are finishing high school or wrapping up your degree, graduation doesn't come easy. As you were able to reach your goals I'm sure you were faced with many challenges but thanks to your focus and dedication you conquered all that stood in your path.
Graduates usually like to hang onto a keepsake of some sort from their schooling, something to remind themselves that with the right amount of determination anything is possible. Our keychain tassels are the perfect item to remind you of all your fond memories and the great friends that you made along the way. Our green keychain tassel option is a solid, earthy choice.
Graduating students are typically seen wearing a gown and a cap with a tassel attached to it for their graduation ceremony. Students tend to go with their school colors for their graduation tassels to show how much they appreciate all that their school has done for them. It is not uncommon for honor students to wear unique tassels in order to stand out for all of their extra dedication to finishing at the top of their class. Whether your mission is to blend in or stand our Honors Graduation has your back. Our keychain tassels are small enough to go where ever you do and they have been crafted using a highly durable material that will last for years. We also have year charms that attach to your tassels to complete the look for a small additional fee.
Not what you're looking for? Check out our Complete List of Keychain Tassel Colors.