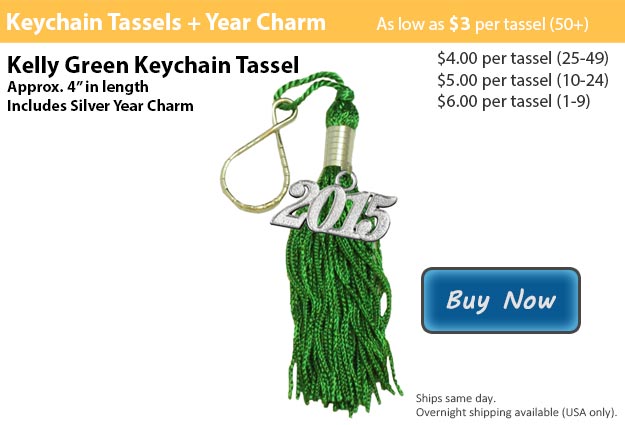 Here at Honors Graduation we have everything that you might need in order to prepare yourself for your important day. Whether you are searching for graduation apparel or a memento to remind you of your schooling, we have just what you need. At Honors Graduation we have a large variety of colors to choose from for all of our accessories, like our keychain tassels in kelly green. Our keychain tassels are a perfect keepsake to remind you of all your hard work and give you confidence everywhere you go. Many students hang their regular tassels up on display in their home, this option lets you take them with you on your travels without worry. It is common for graduates to choose tassels in their schools colors to show their school spirit and how proud they are to attend, however this is not always the case. Honor students as well as other students who have received other special achievements usually go with graduation tassels that stand out from their peers allowing them to be recognized for their extra efforts.
Graduation is a time where your family and close friends all come together in order to celebrate your success. It is the goal of Honors Graduation to have you looking your absolute best for your graduation ceremony, this will let you feel comfortable yet confident during this monumental day in your journey. We urge you to pause for a moment at your ceremony to simply look around and take everything in, you have earned to be where you are and should be very proud be there. You have conquered challenge after challenge, picking yourself up when the going got rough and persevered. After dedicating so much of your time and energy into successfully reaching this point you deserve a proper celebration.
Not what you're looking for? Check out our Complete List of Keychain Tassel Colors.