Graduation is the time to celebrate each graduating student for all of their achievements, a time where family and friends come together to honor the successful completion of their loved one's schooling. Be sure that you cherish this time, as you accept your diploma or degree it signifies this chapter of your life coming to a halt and the next one beginning. Honors Graduation is here to help you look amazing as you start the transition into the next portion of your life. Normally students wear a cap and gown at the time of their graduation ceremony and often times they will wear a tassel, we have everything that you might want or need at Honors Graduation with excellent pricing. Our lavender and white graduation tassel is an outstanding choice, the lavender is a soft color and clashes well with the pureness of the white. You can even add a charm (the year you graduated) from 1988 to the present for just a small additional fee. It is our goal to help every student look their best and our customer service is more than happy to help you with any questions or issues that you may have.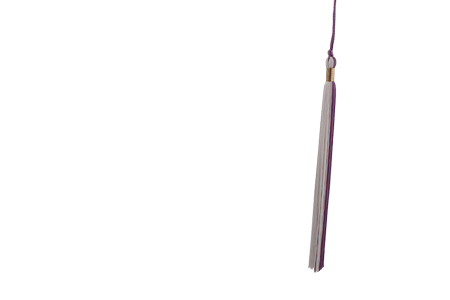 Honor graduates sometimes indicate their higher achievements by wearing tassels that are unique from their fellow classmates but typically students wear their school color on their tassel. It is common for graduates to hang onto some sort of momento from their schooling, your graduation tassels would be a great keepsake for example. There are plenty of students who hang their tassels on the mirror in their car or on display in their home. When you buy graduation attire from us here at Honors Graduation you can be sure that it will stand up against the tests of time. We use a very durable material that also keeps its color so you will have them for years to come as a reminder of all your hard work.
Not what you're looking for? Check out our Complete List of Graduation Tassel Colors.