Graduation is a monumental point in every student's life, it indicates that they have successfully completed their schooling to earn their diploma, degree, or other special achievement. These graduates deserve to be recognized for their years of dedication and sacrifice that go hand in hand with the challenges that each student has overcome in order to make it this far. At Honors Graduation we go above and beyond the expectations to help you look absolutely stunning on your important day. Students that are graduating dress in a cap and gown during the ceremony, typically they accent their outfit with graduation tassels, cords, and even both. If you wish to go with a lighter, more flowery color, our lilac graduation tassels would be a fantastic finishing touch for your wardrobe. It is important to represent yourself in the proper manner at the time of your graduation. Many students wear their school colors for their tassels to show their appreciation but it is not uncommon for honor students to get unique colored tassels to indicate the extra effort that was put forth to earn such high accomplishments. We have everything you're looking for in one convenient location.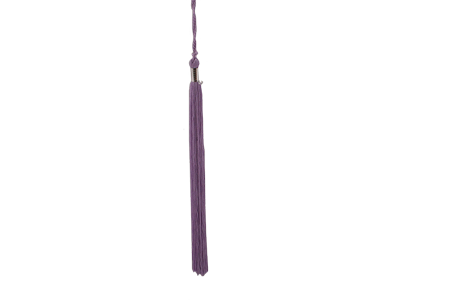 We use durable yet vibrant materials when making our graduation tassels to ensure that not only will they look magnificent but they will last you for many years to come. The long life of our tassels make them the ideal token of your success. They can easily be displayed at home or perhaps the mirror of your car, wherever you decide to hang them your tassels will be a pleasant reminder of all that you have accomplished. Here at Honors graduation we strive to help you look your best on your graduation day and are prepared to go the extra mile for your satisfaction.
Not what you're looking for? Check out our Complete List of Graduation Tassel Colors.