National Art Honor Society Graduation Cords, sometimes referred to as rainbow graduation cords, are worn at graduation to recognize membership in NAHS. These honor cords are called rainbow cords because they feature 6 different colors between two graduation cords that are tied together in a double cord. The National Art Honor Society Graduation Cords are purple, yellow and green in one cord, and blue, orange and red in the other. These colors make up the NAHS cords.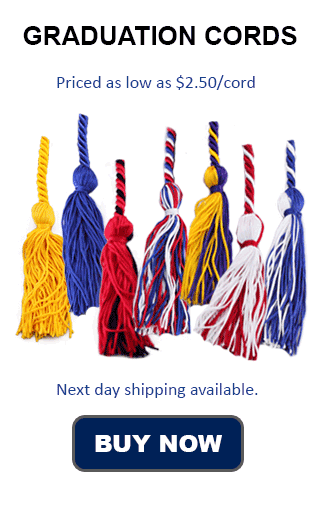 There are two levels of the National Art Society, that, when combined cover grades 7-12. There is the National Junior Art Honor Society (NJAHS), that is for students grade 7-9, and the National Art Honor Society (NAHS), which is for grades 9-12. It is interesting to note that grade 9 is on there twice. This is because sometimes grade 9 is part of middle school or juionr high school, and sometimes it is part of high school. So students in 9th grade would either be int the National Junior Art Society if they are in a junior high school or middle school, and they would be in the NAHS if they are Freshmen in High School where they live. Either way, the National Art Honor Society Graduation Honor Cord is usually reserved for use by graduating seniors in NAHS.
Currently there are over 33,000 students in NAHS nationwide. Members of the National Art Honor Society are eligible to receive the Rising Star Secondary Recognition Award, the Charles M. Robertson Memorial Scholarship to the Pratt Institute School of Art and Design, a four year scholarship to the school, located in New York City, New York. They can also earn other awards and attend conventions and institutions nationwide.
Not what you're looking for? Check out our Complete List of Graduation Cord Colors.