Honors Graduation
Honor Cords
National Honor Society
Honor Cords
Leading Competitor
Cord Type:
Double
Double
Double
Colors:
Gold & Gold or Gold & Blue
Gold & Gold or Gold & Blue
Gold & Gold or Gold & Blue
Length:
~70 inches
~60 inches
~70 inches
Price:
$12
$12
$19.95
Bulk Pricing:
As low as $5.00/cord
Not Listed
$11.95/cord
*Data taken from official National Honor Society honor cord provider website on 3/12/2013.
---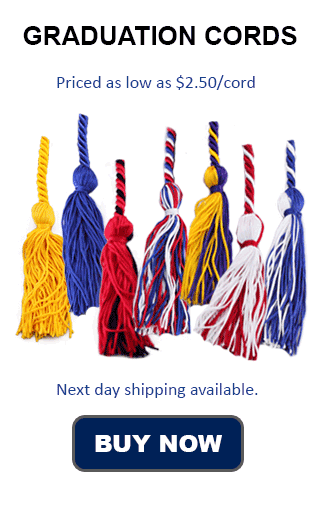 National Honor Society Graduation Cords, called NHS Honor Cords on their official website, can be either a Blue and Gold Double Cord or a Double Gold Graduation Cord. Cords include a small golden charm. If students want their cords to include the NHS charm, they can only obtain their cords from the official NHS website. Honors Graduation cannot offer official NHS honor cords to students and our honor cords will not include the small golden charm.
The Blue and Gold Honor Cords available from Honors Graduation feature one Gold Cord and one Royal Blue Cord. The cords are tied in the middle and have 4 inch tassels at each end of each cord of either blue or gold, depending on the color of the cord.
Honor societies are available to many high school and college age students. These organizations can help students in many levels of the education track to help meet and engage in activities with like-minded students with simiar interests, abilities, and skill sets.
Today estimates put the total number of students in honor societies at over one million students. What better way to honor a student that is part of these proud organizations, and has been dedicated to his or her school work and character development then with a graduation cord from Honors Graduation. Our cords are of superior quality and can be shipped fast! We also offer bulk discout pricing. Order yours today!
Remember, although homeschooling children cannot qualify for membership in many honor societies, there are several other clubs and societies in which they can participate, and we do offer homeschool honor cords for your child's special day.
Not what you're looking for? Check out our Complete List of Graduation Cord Colors.