Graduation is right around the corner and Honors Graduation is here to help you look your best. We have all the graduation attire that students might need to represent themselves, all in one convenient location. At the time of your graduation, as your family and friends join to celebrate your success, it is important to reflect on all the hardships you encountered as well as the many positive memories and friendships that I am sure you built along the way. Without your various trials and triumphs there is no saying in where you might have ended up. Your graduation is a monumental day in your journey, it shows that you are ready to continue on to your next venture whatever it may be. Students who are graduating typically show their school spirit with graduation tassels. Our navy blue and gold graduation tassels are an excellent set, the dark navy blue is a great contrast against the gold. With just a little help from the pros over at Honors Graduation you will fit right in with your fellow graduates.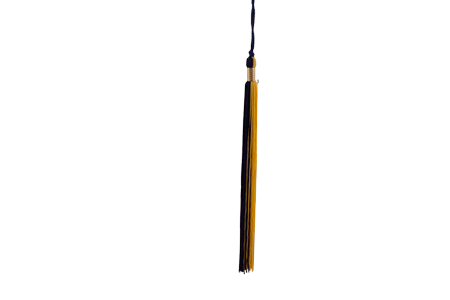 Graduating students wear a cap, gown, and certain accessories such as tassels, cords, or stoles. Honor students usually wear unique graduation tassels to show their higher level of dedication and success, if this is the case for yourself, our navy blue & gold tassel will help you with your dignified look . A common routine followed by graduating seniors is to move your tassels from the left to right side of your cap after receiving your diploma. Many students have been know to hang their tassels in the rear view mirror of their car, or even on display in their homes. Our tassels are an outstanding memento to keep around in order to remind yourself of all the wonderful things that you have worked so hard to accomplish.
Not what you're looking for? Check out our Complete List of Graduation Tassel Colors.