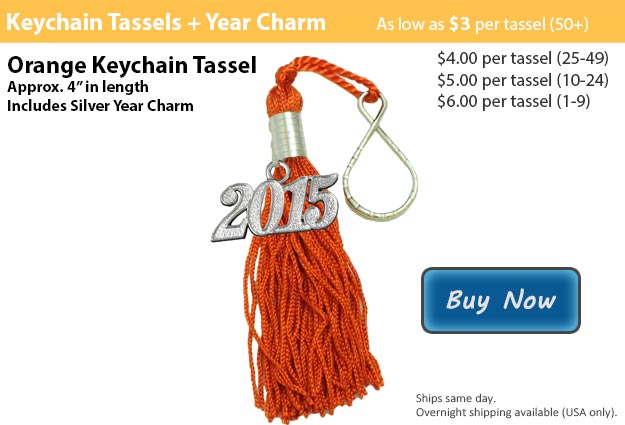 Graduation season is just right around the corner, if you are getting ready for your graduation we want to say "Congratulations!" It is important to be prepared and have everything that you need when it comes time for your graduation ceremony. Here at Honors Graduation we have all of your graduation wardrobe needs. It is our goal to help each and every graduating student to look their absolute best in the most stress free way possible. We have everything from graduation gowns to keychains with year charms. We also have a huge selection of colors to choose from to help picking out your outfit that much easier. Here at Honors Graduation uses a tough material called rayon to make our cords and tassels. The material is also great at holding color so items such as our keychain tassels in orange are going to keep their vibrant color without sacrificing the durability. Our Keychain tassels are the perfect keepsake, reminding you of accomplishments wherever you go.
Graduation is a monumental day in every student's life, it signifies the successful completion of this chapter in your life. I'm sure that it did not come easy, hopefully you were able to enjoy yourself and make a few lasting memories along the way. Graduation is a time for your family and close friends to all come together and celebrate with you and to show how proud they are that you were able to reach your goals. Many graduates hang their graduation tassels from their rear view mirror in their car during their last year of school then hang them on display in their home. Our keychain tassels are smaller than your tassels allow you keep them with you for years and years to come. You can even add your graduation year charm for a small additional fee!
Not what you're looking for? Check out our Complete List of Keychain Tassel Colors.