Graduation tassels are the perfect way to say thank you and express your pride for your students' success. A timeless tradition and essential part of any graduation ceremony, the graduation tassel makes all the difference in the world to your graduates and their commencement experience, and a red and navy tassel is an excellent choice for any graduation. Red and navy graduation tassels are meant to represent the passion and dedication involved with obtaining an education. Students who exemplify these qualities need encouragement to continue onward in their success. A red and navy graduation tassel is just the thing to inspire them as they take the next step in their educational experience.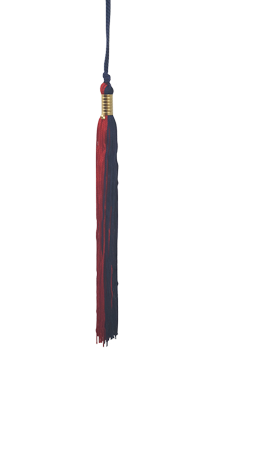 Red and navy graduation tassels are most frequently used by students graduating in computer science, engineering, or business, however the red and navy tassel is an excellent choice for any school that uses those colors. A red and navy tassel can add to the excitement of graduation day, as students mark the end of this chapter of their lives by turning the tassel from one side of their caps to the other. The intangible sense of pride and hope that comes from graduation will be forever embodied in your student's red and navy tassel, and will last in their memories for years to come.
Our tassels are made from the finest, all synthetic material, so you can rest assured that the red and navy memento of accomplishment will last for a long time. All our tassels include a charm that depicts the year of graduation, and are made to hang beautifully on a standard graduation cap. With our low prices and amazing shipping rates, you know you're getting the best quality for the best deal. We know what a hassle it can be to plan and prepare for a graduation ceremony, so let us take some of the guesswork out of the equation. Order your red and navy tassels from Honors Graduation today!
Not what you're looking for? Check out our Complete List of Graduation Tassel Colors.