Allow the professionals here at Honors Graduation assist you with your graduation wardrobe needs. Students who are graduating almost always wear a cap and gown during their ceremony, don't forget about the accessories that you can wear as well. Graduates commonly wear graduation cords and/or tassels, Honors Graduation has everything from the gowns to the tassel charms that you can add with the year you graduate on them, we have it all. A great amount of your time and hard work have brought you to this point so why not look your absolute best? Our red, black, and gold graduation tassel combination is a sharp look. These are three colors that were arguably made to go together, this is an excellent choice for representing yourself on this important day. Student usually pick their school colors for their graduation tassels to show their school spirit and stand proud next to their fellow classmates. During the ceremony for your diploma it is tradition to move your tassels from one side of your cap to the other. Honor students have been know to signify their extra efforts by wearing tassels that stand out from their peers. Our tassels in red, black, & gold will do the trick in either case.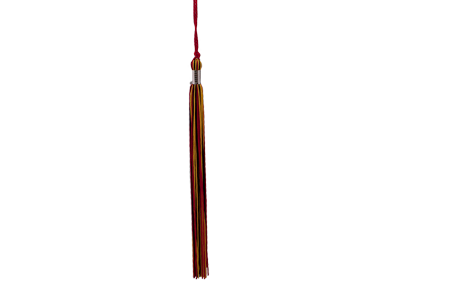 It is common among graduates to hang onto a keepsake from graduation to remind themselves of all the struggles as well as triumphs that they have been through in order to successfully reach this point in their lives. Be sure to take a moment to yourself during your graduation, as your family and close friends all come together to celebrate all that you've accomplished, and remember all of the good times that you have had leading up to know. As the part of your journey comes to an end the next door will open and as long as you remember to never give up, you any do anything.
Not what you're looking for? Check out our Complete List of Graduation Tassel Colors.