Honors Graduation is the place to go when you are in need of graduation attire, we strive to help each and every graduate look their absolute best for their big day. Your graduation is a monumental day, for many it means beginning the next phase in life. As this chapter of your life comes to a halt don't forget about all of the hard work that brought you this far. Take some time to pause and soak everything in on your big day, I'm sure you will find that the overwhelming feeling of success is worth all of the anguishing trials that you have faced to get here. Your graduation is a celebration, it is a time when your family and friends all come together to show their love and support for all of your efforts and sacrifice. Here at Honors Graduation we have everything you need to pull off the look you are going for on your important day. It is common for graduating students to wear a cap and gown along with an accent of some sort, such as a tassel.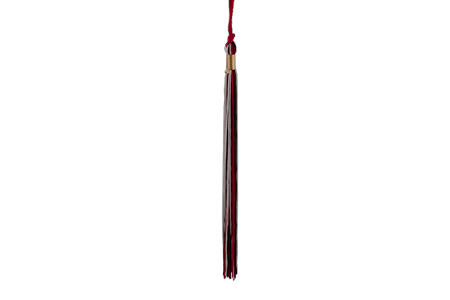 Often times students who have put in the extra effort, like honor students or students with special achievements, will wear graduation tassels that are unique from everyone else's to indicate so. However if you want to match your peers and show your appreciation for your school it is more typical for graduating students to wear tassels in their school colors. Here at Honors Graduation our tassels in red, black, and white would be an absolutely magnificent way to represent yourself during your graduation ceremony. Theses three colors when thrown together are a powerful set, any graduate would look exceptional with this option. Our graduation tassels are also the perfect keepsake to hang onto to always remember that you can do anything you set your mind too.
Not what you're looking for? Check out our Complete List of Graduation Tassel Colors.