Graduation is a time of excitement, celebration, and symbolism. Using two of the most traditional academic colors, the royal blue and gold tassel represents a dedication to excellence and academic success. The tassel stands as a symbol of this big step in the lives of your graduates. A royal blue and gold tassel is the perfect token of success for your students to carry with them through graduation, and throughout their lives.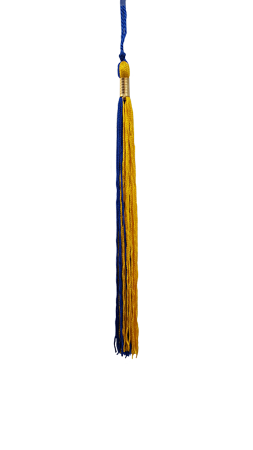 Royal blue and gold tassels are used by countless schools and organizations, including many academic honor societies and service fraternities. A royal and gold graduation tassel will connect your graduates with a tradition of honor and excellence that can serve as an inspiration throughout their lives. Some schools choose to give the royal and gold tassel to every graduating student, creating a feeling of solidarity among the graduating class. Others offer a single color tassel to the majority of the graduates, and give the royal blue and gold tassel to those students who represent the highest achievers in the class. However the royal blue and gold tassels are incorporated into your graduation ceremony, they are sure to have a lasting effect on your graduates.
Our graduation tassels are made from all synthetic materials, and are soft and silky to the touch. Your graduates will treasure their royal and gold tassels for years to come, inspired by the memories of their success and excited by the prospect of future educational experiences. And, with such amazingly low prices, you can relax knowing that you're getting an amazing deal. Order your royal blue and gold tassels from Honors Graduation today, and let us help you create the perfect commencement ceremony. Don't forget to ask about our bulk order discounts and our flat rate shipping options. If you have any questions about customization, we are happy to help in any way we can.
Not what you're looking for? Check out our Complete List of Graduation Tassel Colors.