Graduation tassels are an excellent tradition and can help your students feel great pride at all that they've accomplished. Offering your graduates the opportunity to wear a royal blue and white graduation tassel will not only make them feel appreciated and special on the day of graduation, but will inspire them to be successful for years to come. A royal blue and white graduation tassel is a traditional choice that many schools and societies use to honor their graduates. Royal blue represents dedication to academic excellence, while the white represents the unique spirit of lifelong learning.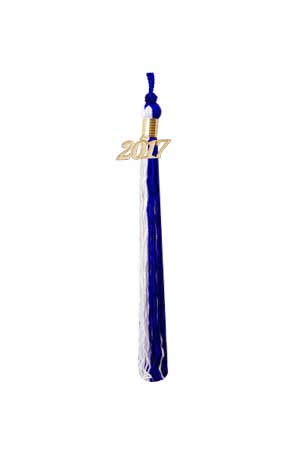 Royal blue and white tassels are given to graduates who have exemplified the qualities that the colors represent. Students who have provided school or community service, or those who have reached outstanding achievements in their academic endeavors are some of the most likely recipients of this prestigious graduation accessory. Offering your students a royal blue and white graduation tassel can help them feel confident as they step out into the next phase of their educational journey. At a time when things can feel uncertain and frightening, the royal and white tassel links your students with graduates who have gone before them, bringing them into a tradition of success that will last forever.
Our royal blue and white graduation tassels are an excellent addition to any graduation ceremony. Made from all synthetic materials, our tassels are not only durable, but also beautiful. We offer great prices on our royal blue and white tassels, and with a $4 flat rate shipping fee, you can't go wrong with Honors Graduation. If you have any questions or concerns, we are more than happy to help, and be sure to ask us about customization options for the tassel year charm. Order your royal blue and white tassels now, and let us make your commencement ceremony a memorable one.
Not what you're looking for? Check out our Complete List of Graduation Tassel Colors.