When it comes to your graduation you can trust the professionals over at Honors Graduation to have you looking spectacular for this significant day in your life. Students have dedicated an enormous amount of time over the course of their schooling in order to achieve excellence. Take the time to appreciate all of the obstacles that you were able to overcome, as well as the deep-rooted friendships that you managed to build along the way. Graduation is an occasion where friends and relatives all come together to show their support for those who have given it their all to successfully reach this monumental point in life. As this section of your journey comes to its end with your graduation your next adventure is soon to begin.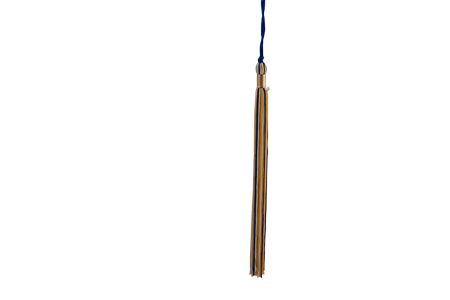 Graduation attire consists of a cap and gown at minimum but is usually complimented by a graduation tassel. Our royal blue, gold, and white graduation tassels can be a very powerful way to represent yourself at your graduation. Honor students tend to wear different colored tassels than their peers to show their extra efforts, these three colors are all very strong together making this an excellent choice. Tassels are usually your school colors, a subtle yet admirable way to show your appreciation to your school for helping you actualize your goals.
Not what you're looking for? Check out our Complete List of Graduation Tassel Colors.