Whether you want to show your pride in your school this graduation or you wish to stand out next to your peers, Honors Graduation is your one stop shop for all your wardrobe needs. Students who are graduating wear a cap & gown during their ceremony, also often worn at this time is a graduation tassel. Honor students and students who have earned special achievements tend to wear unique colors for their graduation tassels, this signifies all the extra work that was put forth to earn such honorable heights. More commonly seen worn by graduates is a graduation tassel in their school colors, a subtle gesture of the appreciation that you have for your school. The royal blue and green graduation tassels that we have here at Honors Graduation are absolutely energetic when you put the two colors together. This tassel set is a lively way to stand out, and a charm in the of your graduation can easily be added to your order for a small fee.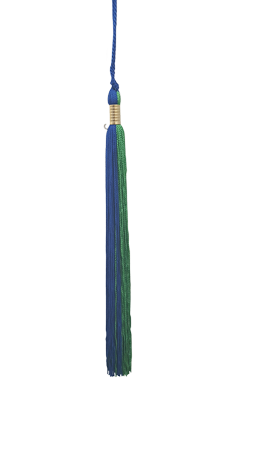 Graduation is an important time in every student's life, it gives them a sense of completion as they move from this journey to their next. You have worked long and hard to reach this point in your life, sacrificing hour after hour in order to be successful and accomplish your goals. As you accept your diploma or any other special degree, take a minute or two to look back on all that it has taken you to get this far, all of the good times as well the hard times that you may have endured. In the end all these experiences have guided you to where you are now. It is not uncommon for graduates to hang onto a keepsake as a reminder of how their struggles paid off, your graduation tassels are a perfect memento and can be conveniently hung just about anywhere.
Not what you're looking for? Check out our Complete List of Graduation Tassel Colors.