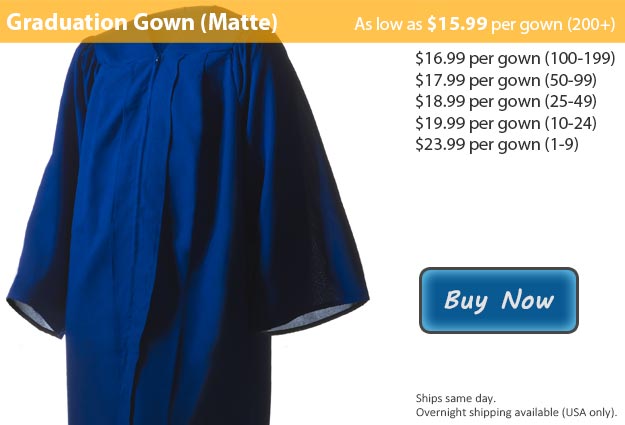 Matte royal blue graduation gowns are a magnificent option. Commonly worn by students graduating in philosophy, they are also the perfect way to show your school spirit.
At Honors Graduation we have everything that you may have been looking for in order to be ready for your ceremony in no time at all! Be sure to enjoy yourself as your family and closest friends all gather together to honor you for the sacrifices that you have made to successfully reach this point. Your graduation is so much more than just a celebration, it is the transition in which you close this chapter of your life and a whole new one begins. While you may have made some new friends to help you manage your journey, I'm sure you were faced with countless challenges as well. Thanks to all of your hard work and absolute dedication over the years, now you know that you are capable of doing anything that you desire. Graduating students normally wear a graduation cap and gown along with their choice of accessories at the time of their ceremony.
Our graduation robes are available in multiple colors, we have each color with both matte and shiny finishes. We have a number of various package deals to assist you with your shopping and allow you quick checkout. We also have each of our inventory items available for separate purchase as well so you can get exactly what you need. Our Cap & Gown + Tassel package includes all the basics to get you ready for graduation, it has the robe of your color choice along with the matching cap and a free tassel as well. Our gowns come in a large variety of sizes ranging from 24-66 including several plus sizes. Anytime you purchase your graduation cap from Honors Graduation, we will throw in the tassel you choose at no additional cost to you.
Not what you're looking for? Check out our Complete List of Graduation Gown Fabrics and Colors.
This graduation robe is also available in Royal Blue Shiny Fabric.